What is a Serpentine Belt?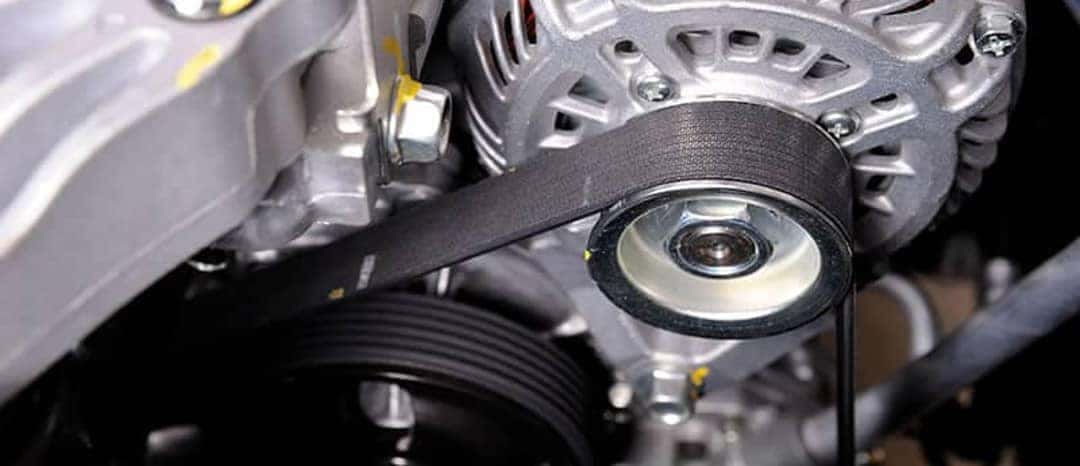 A serpentine belt is a lengthy rubber belt that runs through several automotive engine systems. This component plays a major part in your power steering and air conditioning systems, as well as your water pump and alternator. Using one wide belt throughout helps improve system efficiency, but if not properly cared for, it can cause issues across the board. Learn more about maintaining your serpentine belt with the service experts at DuPage Chrysler Dodge Jeep RAM.
How Does a Serpentine Belt Work?
A serpentine belt is like a snake working its way through your engine, ensuring that everything runs smoothly. Years ago, automakers used multiple individual belts to perform the same tasks, but this proved to be inefficient and required more long-term maintenance. Thanks to improvements in rubber technology, using one long belt has helped improve engine performance, and while it's typically not a top-of-mind part for most Naperville drivers, it plays a dramatic role in how your car drives.
What Are the Symptoms of a Bad Serpentine Belt?
With regular wear and tear, your serpentine belt could last you up to 100,000 miles, as eventually the rubber will begin to break down. Because your serpentine belt is such a vital component to so many systems, you may notice symptoms of failure earlier though, so it's important to be aware of the following:
Air conditioning or power steering issues: if your AC or steering wheel suddenly cause problems, there could be a crack or separation in your belt.
Squealing or chirping noises: if your belt begins to slip or is being stretched beyond its limits, it will likely start making squealing sounds. The longer this goes on, the more likely your belt will detach, so it's crucial to have an experienced technician near Lombard take a look right away.
Car breaking down: while there are many things that cause a complete breakdown, a broken serpentine belt is high on the list, resulting in an immediate stall.
Schedule Service in Glendale Heights
If you are experiencing any of the above issues, bring your vehicle in for service at DuPage Chrysler Dodge Jeep RAM. Our certified technicians can help diagnose whether your serpentine belt needs repair, or if there are other issues at play. We can also help with tire rotations or if oil is leaking from your car.