ANTICIPATE GREATNESS IN THE ALL-NEW JEEP WAGONEER & GRAND WAGONEER
New Wagoneer & Grand Wagoneer INVENTORY ARRIVING DAILY. CONTACT OUR EXPERIENCED SALES TEAM @ 630-984-1559 TO LEARN ABOUT OUR IN-TRANSIT INVENTORY AND RESERVE YOUR ALL-NEW WAGONEER TODAY.
BELOW IS MORE INFORMATION ABOUT THE LEGENDARY WAGONEER AND GRAND WAGONEER
The All-New Jeep Wagoneer is built for those who want to share a lifetime of success with the people they hold dear. The All-New Wagoneer and Grand Wagoneer reinterpret their own legacies and take the premium SUV into uncharted territories of style, comfort and adventure. These are more than sport utility vehicles. They're the means to make exceptional memories and create your own legend.
Our customers have high expectations, and our Certified Wagoneer Ambassadors on our Team are ready to exceed them. Each Ambassador has completed over 90 hours of dedicated Wagoneer and Grand Wagoneer training to offer you specialized knowledge and solutions, helping build a long-lasting relationship.
AN INTERIOR WITH MANY VIEWS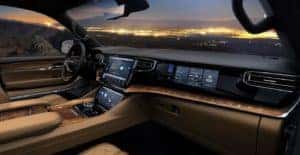 Experience a cabin crafted for comfort, one that caters to your specific needs. The All-New Wagoneer and Grand Wagoneer offer arrangements of carefully selected materials and artfully integrated technology to help set you completely at ease. The three-row passenger seating provides enough room for everyone in the family to find their own peace and quiet. Grand Wagoneer and Wagoneer offer available innovative storage options and dynamic seating that accommodates up to eight passengers. Plus, available premium materials provide inviting comfort and durability to satisfy the entire family.
FIRST CLASS SEATING
Experience different degrees of rejuvenating comfort no matter how long the journey. The Grand Wagoneer front cabin offers state-of-the-art available 24-way adjustable power seats that feature massage and memory capability, while Wagoneer offers 12-way adjustable power seats.
ON ANOTHER WAVELENGTH
your journey with Industry-Exclusive McIntosh® Audio. This available and finely tuned sound system delivers a sonic quality that will impress the most ardent audiophile.
EVERYTHING IN ITS RIGHTFUL PLACE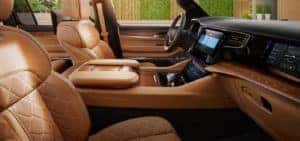 The Jeep Wagoneer and Grand Wagoneer host a wealth of premium features that push the boundaries of interior space, comfort and convenience. Every aspect of your drive was given careful thought and attention, so you can enjoy the ride in a whole new way.
Available Quilted Palermo Leather-Trimmed Seating with 24-Way Adjustable Power. Beneath a rich surface that blends available quilted Palermo leather trim and lush suede, Grand Wagoneer seating is engineered to offer bespoke comfort. Tailor the available 24-way adjustable power front seats to fit the unique contours of your body and conveniently save your settings for the next drive. Then engage the massage capability and sink into rejuvenating relaxation.
AVAILABLE REAR SEAT DISPLAYS
Artfully mounted to the back of the first-row seats, two available 10.1-inch screens offer the streaming capability of Amazon Fire TV for Auto. Now, your passengers can escape while heading to the destination.
MOST OVERALL CARGO VOLUME BEHIND THE THIRD ROW
Three rows of flexible seating deliver multiple configurations for nearly any journey. In full-passenger mode you get available seating up to eight plus a Best-in-Class cargo volume behind the third row.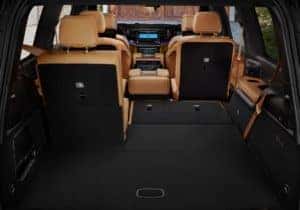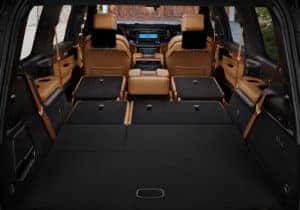 60/40 SPLIT
Looking for a little more space? You can easily expand the cargo area by lowering sixty percent of the third row with the touch of a button. It's ideal for carrying golf bags, camping equipment and extra beach essentials.
LOWERED THIRD ROW
Lower the third-row bench seat to find the balance you need between storage capacity and passenger seating.
FUNCTIONAL SPACE
Adjustable Third-Row Seating
Dynamic storage lets you collapse the third-row seating in various configurations, unlocking even more room. From one-quarter to fully lowered orientations, you can adjust the cargo area to meet the needs of every trip.
FULL CARGO AREA
With both rows of the rear cabin seating lowered, you can take advantage of tremendous cargo space. It offers enough space for bigger items.
THE HEIGHT OF EXTERIOR DESIGN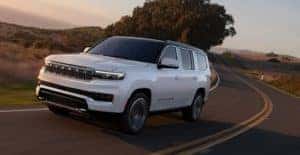 The Jeep Wagoneer and Grand Wagoneer host a wealth of premium features that push the boundaries of interior space, comfort and convenience. Every aspect of your drive was given careful thought and attention, so you can enjoy the ride in a whole new way.
The All-New Wagoneer and Grand Wagoneer are the result of a daring vision and a commitment to enduring legacies. Mixing audacity and restraint, they represent a watershed moment in automotive design. Inspired by the Great Outdoors. The design of the Wagoneer and Grand Wagoneer is rooted in the American landscape, taking inspiration from its sweeping lines and rolling contours.
FUNCTIONAL DESIGN
The hands-free power liftgate offers convenient access to the cargo area, making it easy to load and unload your belongings.
AT HOME IN THE ELEMENTS
Wagoneer and Grand Wagoneer are at home in nature, offering a stunning mix of rugged design and elegant style.
A MODERN CLASSIC
Wagoneer and Grand Wagoneer reinterpret the simple lines and arches that defined its predecessors with dramatic contemporary style. From stunning LED lighting to intricately crafted wheels, every exterior element represents premium design.
DEFINING LIGHT – FRONT LED LIGHTING
Signature LED headlamps combine technical advancements with striking style. An integrated electronic headlamp motor rotates, following the twists and turns of the road to offer light precisely where it's needed.
AMERICAN AESTHETIC – PREMIUM EXTERIOR DESIGN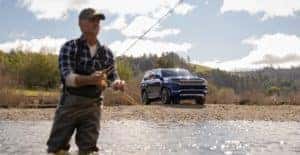 AWE-INSPIRING APPEARANCE
Compelling from every angle, the Grand Wagoneer exterior blends sophisticated contemporary style with classic design cues.
NEW STANDARDS IN CAPABILITY