Why is a Tire Rotation Necessary?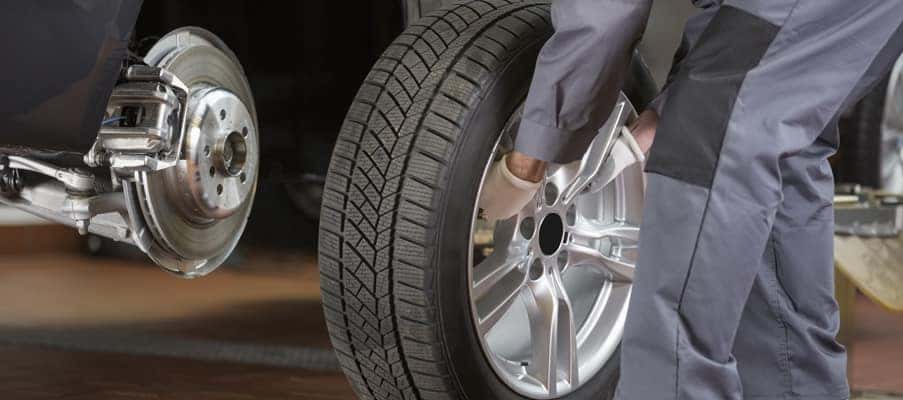 Do you really need to rotate your tires? Drivers around St. Charles seem to think so, and they're right. When you find your next car, truck, or SUV at DuPage Chrysler Dodge Jeep RAM, we'll help you stay on top of necessary vehicle upkeep like a tire rotation. We even offer service specials so you'll stay within your budget to keep your car running in top shape. Explore why tire rotations are necessary and the benefits of keeping your tires rotated in this comprehensive overview.
The Benefits of Having Your Tires Rotated
Whether it's every 6,000 miles or 8,000 miles, once you learn how often your tires should be rotated by reviewing your vehicle manual or contacting our service team, you'll be able to create a schedule to visit the service department near Naperville to rotate your tires. However, why rotate your tires to begin with? Some benefits of having your tires rotated are:
Balance: Rotating your vehicle's tires help maintain the overall balance of your ride. When your tires become rotated, we'll check your tires for uneven wear that's common as you travel.
Traction: Since a tire rotation balances your tires, it'll also help with traction. The tires will be even against the road, helping you regain good traction. This will help drivers who encounter roads that may be slippery or icy, especially in winter.
Upholding your vehicle's warranty: Most manufacturer's warranties state that your vehicle requires regular tire rotations to keep other parts of your coverage valid. Performing routine rotations assists with that.
When you take your car, truck, or SUV into the service department for a tire rotation, they're focused on re-aligning your tires by rotating the tires to balance them again. This action is performed because your wheels are in constant motion as you drive, and each wheel is affected by the road differently, especially when you turn. The overall benefits of a tire rotation ultimately help you maintain your vehicle's lifespan.
When to Replace Your Tires
When you take your vehicle in for a rotation, they'll check your tire's tread to see if they'll need replacing. Your tire's tread depth determines how much life you'll have left in your tires as you travel in nearby Elmhurst. If the tread depth is low, a technician will suggest that you replace your tires immediately.
Tire replacement is normal and will prevent excess wear and tear on your vehicle. It'll also keep you safe, as driving with near to bald tires is extremely dangerous and may cause an accident. Check with our technicians at DuPage Chrysler Dodge Jeep RAM to see if your tires will need to be swapped out for new ones when you bring your vehicle in for a rotation.
Rotate Your Vehicle's Tires at DuPage Chrysler Dodge Jeep RAM
Now that you know why tire rotations are necessary, bring your vehicle down to DuPage Chrysler Dodge Jeep RAM for a tire rotation. Our experts are standing by to help you get your vehicle in top shape. Contact us today to schedule an appointment or speak with a member of our team.