Benefits of an Oil Change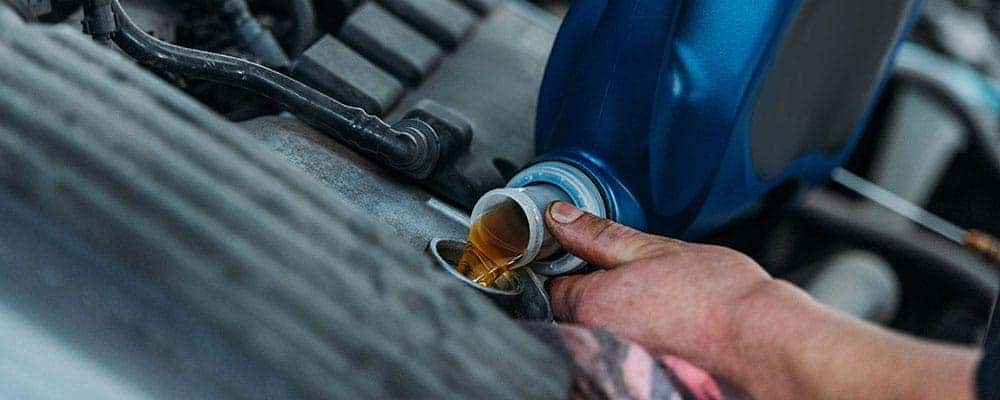 We've all heard that oil changes are important, but how does an oil change work exactly – and why should you care? The benefits of an oil change can't be overstated. Not only will you see immediate benefits in performance and fuel economy, but you'll also see long-term benefits in your engine's condition and longevity. How does an oil change work? Let's dive in with the top technicians at DuPage Chrysler Dodge Jeep RAM – located near Lombard.
How Does an Oil Change Work?
When your engine is hard at work, there's a lot going on! Different components move rapidly, generating heat and causing friction. That's where motor oil comes in. Motor oil is a multipurpose fluid that flows through the engine. It lubricates the components, reduces heat buildup, and reduces friction. The result is a healthy and happy engine. But over time, the motor oil degrades. It gets thicker and dirtier, which compromises its performance. When you get an oil change, your technician will remove the old sludge and replace it with fresh motor oil.
When Should I Get an Oil Change?
So, when should I get an oil change? That depends on a lot of different factors, but generally speaking, we recommend scheduling your service between every 3 months or 5 months – which translates to 3,000 to 5,000 miles. Check your owner's manual for specifics, or feel free to contact us. The other way to keep track of your oil is with a DIY oil check.
Turn off your car and wait a few minutes.
Pop the hood and look for the dipstick.
Pull out the dipstick and look at the oil level. Top off if needed.
Look at the engine oil color. Is it light brown or darkened over time?
Additionally, many vehicles have an oil light to help monitor your oil's condition automatically. If your light pops on, it's time for a visit to the dealership!
Where Can I Get an Oil Change?
Finally, where can I get an oil change? If you're near St. Charles and Naperville, look no further than DuPage Chrysler Dodge Jeep RAM! We're happy to take care of your oil changes, tire rotations, and any other auto-related need that you could want. Schedule your service online today.
Blog Feed:
More From DuPage Chrysler Dodge Jeep RAM
The 2019 Jeep Wrangler offers St. Charles shoppers impressive off-roading capabilities, legendary power, and a unique style. Offering 10 exterior color options, and a multitude of interior choices, you'll be able to customize your new Wrangler to suit your tastes. Explore the color options of the new Jeep Wrangler today at DuPage Chrysler Dodge Jeep RAM! Learn More View…

A serpentine belt is a lengthy rubber belt that runs through several automotive engine systems. This component plays a major part in your power steering and air conditioning systems, as well as your water pump and alternator. Using one wide belt throughout helps improve system efficiency, but if not properly cared for, it can cause…

Have you ever found yourself standing at the pump in St. Charles wondering, "what's the difference between premium and regular gasoline?" Besides a higher price, premium gas has a higher octane level than regular. Octane ratings relate to engine combustion, and the higher the level, the less likely combustion will occur outside of its regular…