A Local's Guide to Glendale Heights
A Local's Guide to Glendale Heights
Glendale Heights may be a suburb of the Chicago area, but it has a vibrant spirit and dynamic community that is all its own. And that's just one of the many reasons that we're so proud to call the area our home at DuPage CDJR. Whether selling quality vehicles to fellow residents or experiencing the fall festivals with our families, we're happy to give back to the local community in any way that we can. Let's take a closer look at the past, present, and future of Glendale Heights, so you can get to know the town just as well as a local.
History
Glendale Heights wasn't always the booming village that you see today. In fact, it was once known as simply Glendale during its incorporation in 1959. The name was chosen to reflect its close relationship with neighboring Glen Ellyn in the south and Bloomingdale in the north. But to avoid confusion with Glendale of southern Illinois, the city officially changed the name to "Glendale Heights" in 1960. The new moniker referenced the different topographies of the city, differing by up to 100 feet! The town grew rapidly, bringing in new residents and businesses, and now has a population of approximately 34,100 locals.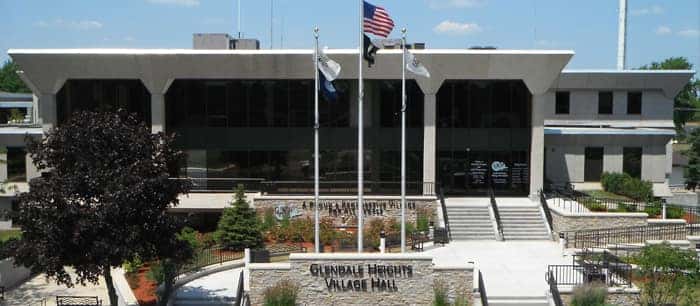 Photo Courtsey of https://www.glendaleheights.org/
---
Attractions
Glendale Heights maintains a strong sense of community through annual events that bring everyone together. Check out some of our favorite festivals:
Glendale HeightsFest is one of the most popular and well-known of the summer festivals. From fireworks to carnival rides to live music, there's something for everyone at Glendale Heights Fest.
Oktoberfest brings an authentic German food and festivities to the suburbs. Rain or shine, you can visit the Oktoberfest tents to sample everything from schnitzel to bratwurst to beer imported straight from Germany!
The Tree Lighting Ceremony fills the town with holiday spirit every December with choral music, warm refreshments, and of course – the breathtaking lighting of the Christmas tree.
Find Out More!
For all of your automotive needs in the Glendale Heights area, visit DuPage CDJR! We're always happy to help, whether you need a new car or a quick repair. Contact us with any questions, and welcome to Glendale Heights!