New Jeep Wrangler Lease Deals in Glendale Heights, IL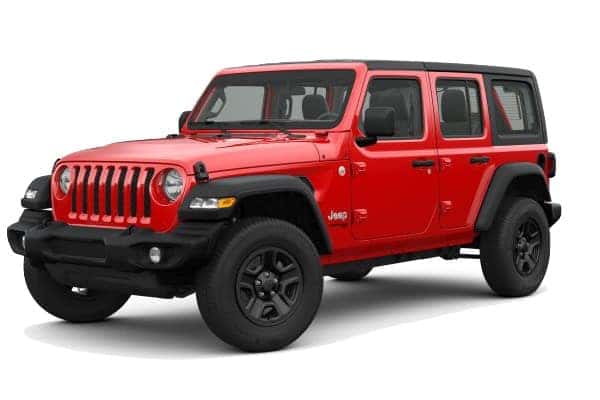 2019 Wrangler
Sport 4X4
LEASE FOR: $279/mo* for
36 months
$3,499 total due at signing, no security deposit. Offer expires on 06-30-2019.
*$3,499 due at signing plus 1st mos payment, no security deposit. plus tax, title, license &doc fee to qualified buyers with approved credit. *savings from MSRP, MSRP may not be the price at which the vehicle is sold in the trade area. see dealer for details. Expires 6/30/19.
DuPage Chrysler Dodge Jeep Ram (CDJR) in Glendale Heights, IL, has Jeep Wrangler lease specials to help you take this rugged SUV home today. Our extensive new Wrangler inventory has numerous Jeep Wranglers for sale. Simply pick out your favorite model, then match it with a DuPage CDJR lease price or manufacturer rebate. But hurry! These deals change monthly, so be sure to claim your offer now!
If you have any questions about our 2019 Jeep Wrangler special offers, get in touch with a DuPage CDJR representative by calling (630) 984-1559 or fill out our contact form.
21

Matching Vehicles

Found

VIN: 1C4HJXDG5KW603395

Stock #: 191380

Explore Payment Options

Compare and Save Real-Time Bank Offers
Customize Your Monthly Payment
Get Instant Trade-In Estimate

Customer Preferred Package 24S, 3.6L V6 24V VVT Engine Upg I w/ESS, 8-Speed Automatic Transmission, Cloth Seats with Adjustable Head Restraints, Conve ...

[ more ]

Explore Payment Options

Compare and Save Real-Time Bank Offers
Customize Your Monthly Payment
Get Instant Trade-In Estimate

Customer Preferred Package 24S,3.6L V6 24V VVT Engine Upg I w/ESS,8-Speed Automatic Transmission,Cloth Seats with Adjustable Head Restraints,Convenience Group,Cold Weather Group,Black Freedom Top® 3-Piece Hard Top,50 State Emissions,Bikini Pearl-Coat Exterior Paint,Black Interior Color,Technology Group

VIN: 1C4HJXDG1KW646552

Stock #: 191384

Explore Payment Options

Compare and Save Real-Time Bank Offers
Customize Your Monthly Payment
Get Instant Trade-In Estimate

Cloth Seats with Adjustable Head Restraints, Black Freedom Top® 3-Piece Hard Top, 50 State Emissions, Customer Preferred Package 24S, 3.6L V6 24V ...

[ more ]

Explore Payment Options

Compare and Save Real-Time Bank Offers
Customize Your Monthly Payment
Get Instant Trade-In Estimate

Cloth Seats with Adjustable Head Restraints,Black Freedom Top® 3-Piece Hard Top,50 State Emissions,Customer Preferred Package 24S,3.6L V6 24V VVT Engine Upg I w/ESS,8-Speed Automatic Transmission,Granite Crystal Metallic Clear-Coat Exterior Paint,Black Interior Color,Technology Group,Convenience Group,Cold Weather Group

VIN: 1C4HJXDGXKW597531

Stock #: 190899

Explore Payment Options

Compare and Save Real-Time Bank Offers
Customize Your Monthly Payment
Get Instant Trade-In Estimate

Move quickly!!! 4 Wheel Drive!!! Gassss saverrrr!!! 23 MPG Hwy* How comforting is it knowing you are always prepared with this generous SUV* Priced be ...

[ more ]

Explore Payment Options

Compare and Save Real-Time Bank Offers
Customize Your Monthly Payment
Get Instant Trade-In Estimate

Move quickly!!! 4 Wheel Drive!!! Gassss saverrrr!!! 23 MPG Hwy* How comforting is it knowing you are always prepared with this generous SUV* Priced below MSRP!!! This mighty Vehicle is available at just the right price, for just the right person - YOU. Optional equipment includes: Quick Order Package 24S Sport S, Transmission: 8-Speed Automatic (850RE), Black 3-Piece Hard Top, Cold Weather Group, Technology Group, Convenience Group, SiriusXM Satellite Radio, MOPAR All-Weather Floor Mats..., FREE LOANERS!!!!!! PICTURES ARE FOR ILLUSTRATION PURPOSES ONLY.

VIN: 1C4HJXDN6KW623931

Stock #: 191249

Explore Payment Options

Compare and Save Real-Time Bank Offers
Customize Your Monthly Payment
Get Instant Trade-In Estimate

This rock-hard Vehicle seeks the right match* Great MPG: 23 MPG Hwy. Priced to Move - $4,678 below MSRP* All Around gem!! This wonderful Vehicle, wit ...

[ more ]

Explore Payment Options

Compare and Save Real-Time Bank Offers
Customize Your Monthly Payment
Get Instant Trade-In Estimate

This rock-hard Vehicle seeks the right match* Great MPG: 23 MPG Hwy. Priced to Move - $4,678 below MSRP* All Around gem!! This wonderful Vehicle, with its grippy 4WD, will handle anything mother nature decides to throw at you** Optional equipment includes: Transmission: 8-Speed Automatic (850RE), Black 3-Piece Hard Top, Engine: 2.0L I4 DOHC DI Turbo eTorque, Deep Tint Sunscreen Windows..., FREE LOANERS!!!!!! PICTURES ARE FOR ILLUSTRATION PURPOSES ONLY.

VIN: 1C4HJXDG8KW578413

Stock #: 191376

Explore Payment Options

Compare and Save Real-Time Bank Offers
Customize Your Monthly Payment
Get Instant Trade-In Estimate

Cloth Seats with Adjustable Head Restraints, 50 State Emissions, Customer Preferred Package 24S, 3.6L V6 24V VVT Engine Upg I w/ESS, 8-Speed Automatic ...

[ more ]

Explore Payment Options

Compare and Save Real-Time Bank Offers
Customize Your Monthly Payment
Get Instant Trade-In Estimate

Cloth Seats with Adjustable Head Restraints,50 State Emissions,Customer Preferred Package 24S,3.6L V6 24V VVT Engine Upg I w/ESS,8-Speed Automatic Transmission,Technology Group,Convenience Group,Cold Weather Group,All-Weather Floor Mats,Black Freedom Top® 3-Piece Hard Top,Heavy-Duty Rock Slider with Step Assist,Black Clear-Coat Exterior Paint,Black Interior Color

VIN: 1C4HJXEG2KW597537

Stock #: 190865

Explore Payment Options

Compare and Save Real-Time Bank Offers
Customize Your Monthly Payment
Get Instant Trade-In Estimate

Isn't it time for a Jeep?!! 4 Wheel Drive, never get stuck again!!! Blow out pricing!!! Priced below MSRP** This is the vehicle for you if you're lo ...

[ more ]

Explore Payment Options

Compare and Save Real-Time Bank Offers
Customize Your Monthly Payment
Get Instant Trade-In Estimate

Isn't it time for a Jeep?!! 4 Wheel Drive, never get stuck again!!! Blow out pricing!!! Priced below MSRP** This is the vehicle for you if you're looking to get great gas mileage on your way to work.. STOP!! Read this!! Optional equipment includes: Transmission: 8-Speed Automatic (850RE), 8.4' Radio & Premium Audio Group, Alpine Premium Audio System, Black 3-Piece Hard Top, Cold Weather Group, MOPAR All-Weather Floor Mats..., FREE LOANERS!!!!!! PICTURES ARE FOR ILLUSTRATION PURPOSES ONLY.

VIN: 1C4HJXCN7KW512886

Stock #: 190739

Explore Payment Options

Compare and Save Real-Time Bank Offers
Customize Your Monthly Payment
Get Instant Trade-In Estimate

Hold on to your seats!!! Jeep has done it again!!! They have built some tenacious vehicles and this tenacious SUV is no exception** Priced below MSRP! ...

[ more ]

Explore Payment Options

Compare and Save Real-Time Bank Offers
Customize Your Monthly Payment
Get Instant Trade-In Estimate

Hold on to your seats!!! Jeep has done it again!!! They have built some tenacious vehicles and this tenacious SUV is no exception** Priced below MSRP!!! The price is the only thing that's been discounted on this tough SUV* Real gas sipper!!! 23 MPG Hwy! This kid-friendly SUV, with its grippy 4WD, will handle anything mother nature decides to throw at you!! Classy! Optional equipment includes: Transmission: 8-Speed Automatic (850RE), 8.4' Radio & Premium Audio Group, Alpine Premium Audio System, Black 3-Piece Hard Top, Engine: 2.0L I4 DOHC DI Turbo eTorque, Cold Weather Group, Safety Group, Remote Proximity Keyless Entry..., FREE LOANERS!!!!!! PICTURES ARE FOR ILLUSTRATION PURPOSES ONLY.

VIN: 1C4HJXEN3KW505933

Stock #: 190436

Explore Payment Options

Compare and Save Real-Time Bank Offers
Customize Your Monthly Payment
Get Instant Trade-In Estimate

Customer Preferred Package 28G, 2.0-Liter I4 DOHC DI Turbo eTorque Engine, 8-Speed Automatic Transmission, Leather-Trimmed Seats w/ Sahara Logo, Black ...

[ more ]

Explore Payment Options

Compare and Save Real-Time Bank Offers
Customize Your Monthly Payment
Get Instant Trade-In Estimate

Customer Preferred Package 28G,2.0-Liter I4 DOHC DI Turbo eTorque Engine,8-Speed Automatic Transmission,Leather-Trimmed Seats w/ Sahara Logo,Black Freedom Top® 3-Piece Hard Top,50 State Emissions,Bright White Clear-Coat Exterior Paint,Black Interior Color,Cold Weather Group,8.4-Inch Radio and Premium Audio Group,Jeep® Active Safety Group,All-Weather Floor Mats

VIN: 1C4HJXEN5KW505934

Stock #: 190472

Explore Payment Options

Compare and Save Real-Time Bank Offers
Customize Your Monthly Payment
Get Instant Trade-In Estimate

Blow out pricing!!! Priced below MSRP. It does everything so well, except be lazy.. Your lucky day! This gas-saving Wrangler Unlimited will get you ...

[ more ]

Explore Payment Options

Compare and Save Real-Time Bank Offers
Customize Your Monthly Payment
Get Instant Trade-In Estimate

Blow out pricing!!! Priced below MSRP. It does everything so well, except be lazy.. Your lucky day! This gas-saving Wrangler Unlimited will get you where you need to go. 4 Wheel Drive! Optional equipment includes: Transmission: 8-Speed Automatic (850RE), 8.4' Radio & Premium Audio Group, Alpine Premium Audio System, Black 3-Piece Hard Top, Engine: 2.0L I4 DOHC DI Turbo eTorque, Safety Group, Cold Weather Group, MOPAR All-Weather Floor Mats..., FREE LOANERS!!!!!! PICTURES ARE FOR ILLUSTRATION PURPOSES ONLY.

VIN: 1C4HJXEN1KW505932

Stock #: 190468

Explore Payment Options

Compare and Save Real-Time Bank Offers
Customize Your Monthly Payment
Get Instant Trade-In Estimate

4 Wheel Drive... Need gas? I don't think so. At least not very much! 23 MPG Hwy... Who could say no to a simply terrific car like this ample Wrangler ...

[ more ]

Explore Payment Options

Compare and Save Real-Time Bank Offers
Customize Your Monthly Payment
Get Instant Trade-In Estimate

4 Wheel Drive... Need gas? I don't think so. At least not very much! 23 MPG Hwy... Who could say no to a simply terrific car like this ample Wrangler Unlimited*** Priced to Move - $5,425 below MSRP!! ELECTRIFYING! Optional equipment includes: Transmission: 8-Speed Automatic (850RE), 8.4' Radio & Premium Audio Group, Alpine Premium Audio System, Black 3-Piece Hard Top, Engine: 2.0L I4 DOHC DI Turbo eTorque, Safety Group, Cold Weather Group, MOPAR All-Weather Floor Mats..., FREE LOANERS!!!!!! PICTURES ARE FOR ILLUSTRATION PURPOSES ONLY.

VIN: 1C4HJXEN7KW505935

Stock #: 190492

Explore Payment Options

Compare and Save Real-Time Bank Offers
Customize Your Monthly Payment
Get Instant Trade-In Estimate

Priced below MSRP!!! This dependable Sahara is available at just the right price, for just the right person - YOU** All the right ingredients!!! Isn ...

[ more ]

Explore Payment Options

Compare and Save Real-Time Bank Offers
Customize Your Monthly Payment
Get Instant Trade-In Estimate

Priced below MSRP!!! This dependable Sahara is available at just the right price, for just the right person - YOU** All the right ingredients!!! Isn't it time you got rid of that old hooptie and got behind the wheel of this credible 2019 Jeep Wrangler Unlimited Sahara!!! 4 Wheel Drive.. SAVE AT THE PUMP!!! 23 MPG Hwy! Optional equipment includes: Transmission: 8-Speed Automatic (850RE), 8.4' Radio & Premium Audio Group, Alpine Premium Audio System, Black 3-Piece Hard Top, Engine: 2.0L I4 DOHC DI Turbo eTorque, Safety Group, Cold Weather Group, MOPAR All-Weather Floor Mats..., FREE LOANERS!!!!!! PICTURES ARE FOR ILLUSTRATION PURPOSES ONLY.

VIN: 1C4HJXFN3KW583580

Stock #: 190978

Explore Payment Options

Compare and Save Real-Time Bank Offers
Customize Your Monthly Payment
Get Instant Trade-In Estimate

Need gas? I don't think so. At least not very much! 23 MPG Hwy** Isn't it time for a Jeep?*** Priced below MSRP!!! The price is the only thing that's ...

[ more ]

Explore Payment Options

Compare and Save Real-Time Bank Offers
Customize Your Monthly Payment
Get Instant Trade-In Estimate

Need gas? I don't think so. At least not very much! 23 MPG Hwy** Isn't it time for a Jeep?*** Priced below MSRP!!! The price is the only thing that's been discounted on this notable Rubicon* This talented Wrangler Unlimited, with its grippy 4WD, will handle anything mother nature decides to throw at you! Classy!! Optional equipment includes: Transmission: 8-Speed Automatic (850RE), 8.4' Radio & Premium Audio Group, Alpine Premium Audio System, Black 3-Piece Hard Top, Engine: 2.0L I4 DOHC DI Turbo eTorque, Cold Weather Group, MOPAR All-Weather Floor Mats..., FREE LOANERS!!!!!! PICTURES ARE FOR ILLUSTRATION PURPOSES ONLY.

VIN: 1C4HJXDN5KW601760

Stock #: 191362

Explore Payment Options

Compare and Save Real-Time Bank Offers
Customize Your Monthly Payment
Get Instant Trade-In Estimate

Bright White Clear-Coat Exterior Paint, Black Interior Color, All-Weather Floor Mats, Anti-Spin Differential Rear Axle, Black Freedom Top® 3-Piece ...

[ more ]

Explore Payment Options

Compare and Save Real-Time Bank Offers
Customize Your Monthly Payment
Get Instant Trade-In Estimate

Bright White Clear-Coat Exterior Paint,Black Interior Color,All-Weather Floor Mats,Anti-Spin Differential Rear Axle,Black Freedom Top® 3-Piece Hard Top,50 State Emissions,SiriusXM® Satellite Radio,245/75R17 All-Terrain Tires,Customer Preferred Package 28S,2.0-Liter I4 DOHC DI Turbo eTorque Engine,8-Speed Automatic Transmission,Cloth Seats with Adjustable Head Restraints

VIN: 1C4HJXDG8KW628288

Stock #: 191322

Explore Payment Options

Compare and Save Real-Time Bank Offers
Customize Your Monthly Payment
Get Instant Trade-In Estimate

Cloth Seats with Adjustable Head Restraints, 50 State Emissions, Customer Preferred Package 24S, 3.6L V6 24V VVT Engine Upg I w/ESS, 8-Speed Automatic ...

[ more ]

Explore Payment Options

Compare and Save Real-Time Bank Offers
Customize Your Monthly Payment
Get Instant Trade-In Estimate

Cloth Seats with Adjustable Head Restraints,50 State Emissions,Customer Preferred Package 24S,3.6L V6 24V VVT Engine Upg I w/ESS,8-Speed Automatic Transmission,Granite Crystal Metallic Clear-Coat Exterior Paint,Black Interior Color,Technology Group,Convenience Group,Cold Weather Group,Black Freedom Top® 3-Piece Hard Top

VIN: 1C4HJXDGXKW553187

Stock #: 190812

Explore Payment Options

Compare and Save Real-Time Bank Offers
Customize Your Monthly Payment
Get Instant Trade-In Estimate

Incredible price!!! Priced below MSRP!!! 4 Wheel Drive!! Yes, I am as good as I look. This is the vehicle for you if you're looking to get great gas ...

[ more ]

Explore Payment Options

Compare and Save Real-Time Bank Offers
Customize Your Monthly Payment
Get Instant Trade-In Estimate

Incredible price!!! Priced below MSRP!!! 4 Wheel Drive!! Yes, I am as good as I look. This is the vehicle for you if you're looking to get great gas mileage on your way to work... Your lucky day!!! Optional equipment includes: Quick Order Package 24S Sport S, Transmission: 8-Speed Automatic (850RE), Black 3-Piece Hard Top, Technology Group, Cold Weather Group, Convenience Group, SiriusXM Satellite Radio, Cargo Group w/Trail Rail System, MOPAR All-Weather Floor Mats, MOPAR Cargo Tub Liner..., FREE LOANERS!!!!!! PICTURES ARE FOR ILLUSTRATION PURPOSES ONLY.

VIN: 1C4HJXEG5KW607669

Stock #: 191282

Explore Payment Options

Compare and Save Real-Time Bank Offers
Customize Your Monthly Payment
Get Instant Trade-In Estimate