Schaumburg Area Chrysler Dealership
Schaumburg Area Chrysler Dealership
Looking for a Chrysler dealership that emphasizes quality cars you can depend on? Our Schaumburg Area Chrysler Dealership sells the latest models, and we offer great savings on our cars. For the individuals looking for a new car dealer that they can trust, we have always put honesty and integrity at the front line of our dealership's reputation. Customers can trust the prices they see at our company, and hopefully the quality speaks for itself and entices them into driving home a reliable new car. Run your errands in style. For further information, contact Dupage Chrysler to learn more about our best deals.
We offer weekly Chrysler specials on vehicles because we want our customers to get the car they always wanted while enjoying savings that can be as much as a couple thousand dollars. When you get in on the right specials, you can save a bunch of cash. You can also request specials for our vehicles online, or you can call us. We love working with customers, and we will schedule a test drive so that you can decide which car appeals most to your personality. Everybody has that one car that they always wanted to race down the highway on while weaving in and out traffic.
Chrysler Specials and Quotes
Currently, we are serving Schaumburg drivers with some appealing specials and quotes. Whenever someone writes us an email, we always respond promptly to their questions on special makes and models. Sometimes people think owning a new car is out of the question, but the truth is that these cars often come in for cheaper than what you'd imagine. Especially with Chrysler specials, it drops the price even more so that you can save money and spend it in other important areas of your life. Our new car dealer displays an ever- constant commitment to excellence and showing our customers the joys of having a new car.
Chrysler Finance and Auto Loans
Our Schaumburg business exhibits a constant willingness to work with customers on financing their next vehicle. We want to make these vehicles as accessible to as many people as possible. Our auto loans cut out the middle man with banks. Ever had to wait for the approval or rejection on a loan from the bank? First, you have to fill out mountains of paperwork and prove you have both the collateral and the credit to take out a loan. Second, you have to wait for several days before you even find out if you have been approved. At our Schaumburg Area Chrysler dealership, you learn if you qualify much faster. We believe in giving our customers a chance even if they have bad credit. You might see a car that ignites your imagination, but the hardest part of any car is financing it. Through our Chrysler dealership, we have helped hundreds of customers to get their hands on the financing and auto loans that make owning a new car possible. You can apply for our vehicle auto loans online to learn if you qualify, which adds greater convenience to the search for a new vehicle.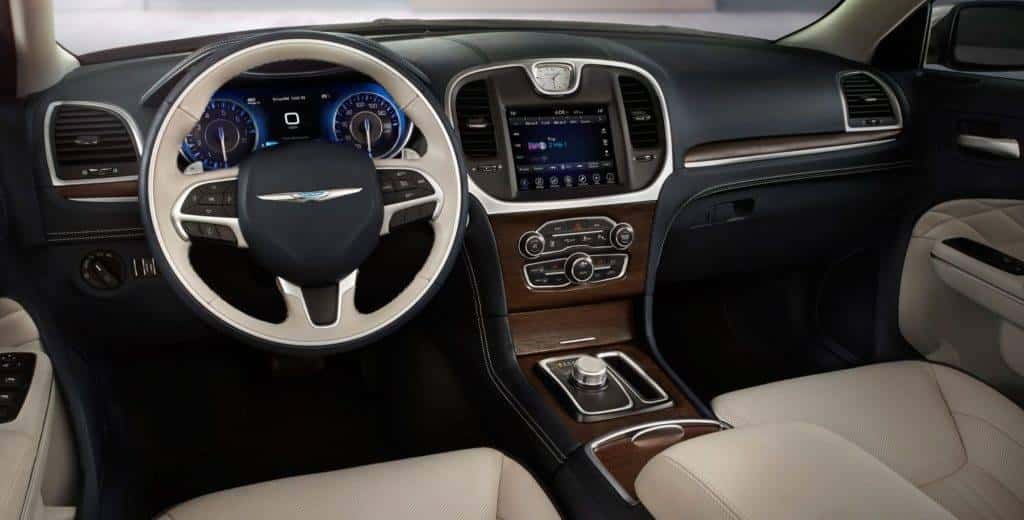 Chrysler Auto Repair and Service
After you have bought a car, you will want ongoing maintenance to keep your vehicle in good standing. Our Chrysler auto repair is serving Schaumburg drivers. Your car will perform better on the highway, and believe it or not, you can actually eliminate some of the more expensive repairs when you catch the problem in its budding stages. Regular maintenance and oil changes at our Chrysler auto repair shop has always meant your vehicle can last longer and be more dependable when on the road.
Another advantage of going through our Chrysler auto repair shop is how we specialize in selling Chrysler auto parts. Because of that, we don't have to order a part and wait for it to come in. We usually keep these parts stocked at our Schaumburg Area Chrysler dealership to put the advantage of time on your side. Here in Schaumburg, we do repair work to help our customers get the most out of their vehicles. Many times when you buy from a new car dealer in Schaumburg, the car will also include a warranty that protects your car from pre-mature repairs. Contact Dupage Chrysler for further information.
Request Chrysler Dealership Service
We are selflessly serving Schaumburg drivers with valuable car services. We have a variety of options to help customers achieve the optimal driving experience when going to work or running to the grocery store for food. When you have a solid dealership stand behind you, you learn how invaluable they become. For example, a good dealership will tell the truth about repairs, and they will bring you an experience focused on quality. Contact Dupage Chrysler, and we will run you through our list of potential car services. We're here to make your life easier.
If you'd like to learn the current details of our cars, you can pick up the phone and call us, or you can also shoot us an email for a quote or special. We are always willing to work with our customers on putting a car title in their name. Over the years, we have helped countless customers to drive a new car off the lot with our financing options. We are always willing to negotiate monthly payments with you. Our Chrysler dealership pedestals the customer as our first priority. We never resort to high-pressure sales tactics to get you to buy a car because we respect you.