New Jeep Grand Cherokee Lease Deals in Glendale Heights, IL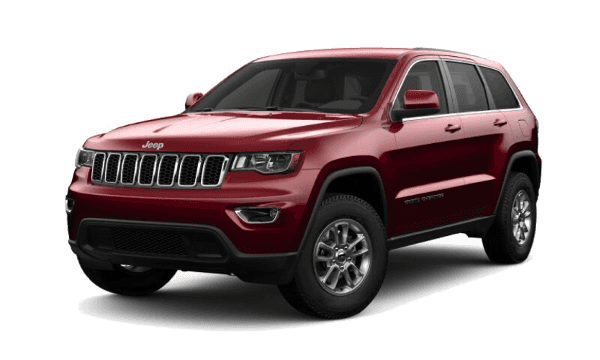 2019 Grand Cherokee LAREDO 4X4
LEASE FOR:
$321/mo* for 36 months
$4,049 total due at signing, no security deposit required. Tax, title and license extra. Offer expires on 06-03-2019.
*For well qualified lessees. Based on MSRP example of $35,290.00 with 2BE package after all applicable offers. Total due at lease signing includes a down payment and first month's payment. Offer requires dealer contribution. Tax, title & license extra. Lessee pays for excess wear and mileage of $.25/mile ($0.50/mile for SRT models) for each mile over 12,000 miles per year, if vehicle is returned at end of term. Option to buy at lease end at pre-negotiated price. Dealer's actual terms may vary. Offer through Chrysler Capital. Residency restrictions apply. Must take retail delivery by 06/03/2019. $395 disposition fee due at lease end.
Forged from freedom, the all-new Jeep Grand Cherokee is uniquely designed to tackle paved roads and those less travelled. The DuPage CDJR team in Glendale Heights, IL, has the Jeep Grand Cherokee lease specials you've been searching for to help you take this versatile SUV home. Explore our new Jeep Grand Cherokee inventory to view available models for sale, then match your favorite trim with one of our exclusive rebates to save big. But hurry! These lease deals change monthly, so be sure to claim your offer below today. Please direct all questions and inquiries about our new Jeep Grand Cherokee special offers and lease prices to a DuPage CDJR representative by calling (630) 984-1559 or fill out our contact form.
71

Matching Vehicles

Found

VIN: 1C4RJEAG7KC556207

Stock #: 190318

Explore Payment Options

Compare and Save Real-Time Bank Offers
Customize Your Monthly Payment
Get Instant Trade-In Estimate

Barrels of fun!!! Incredible price!!! Priced below MSRP! Need gas? I don't think so. At least not very much! 26 MPG Hwy!! Jeep FEVER!! Safety equipmen ...

[ more ]

Explore Payment Options

Compare and Save Real-Time Bank Offers
Customize Your Monthly Payment
Get Instant Trade-In Estimate

Barrels of fun!!! Incredible price!!! Priced below MSRP! Need gas? I don't think so. At least not very much! 26 MPG Hwy!! Jeep FEVER!! Safety equipment includes: ABS, Traction control, Curtain airbags, Passenger Airbag, Front fog/driving lights...Other features include: Bluetooth, Power locks, Power windows, Auto, Climate control..., FREE LOANERS!!!!!! PICTURES ARE FOR ILLUSTRATION PURPOSES ONLY.

VIN: 1C4RJFAG0KC694760

Stock #: 190831

Explore Payment Options

Compare and Save Real-Time Bank Offers
Customize Your Monthly Payment
Get Instant Trade-In Estimate

4 Wheel Drive, never get stuck again!!! Priced below MSRP!!! The price is the only thing that's been discounted on this ready SUV! Barrels of fun! Th ...

[ more ]

Explore Payment Options

Compare and Save Real-Time Bank Offers
Customize Your Monthly Payment
Get Instant Trade-In Estimate

4 Wheel Drive, never get stuck again!!! Priced below MSRP!!! The price is the only thing that's been discounted on this ready SUV! Barrels of fun! This is the vehicle for you if you're looking to get great gas mileage on your way to work** It does everything so well, except be lazy!!! Optional equipment includes: Quick Order Package 2BE Laredo E..., FREE LOANERS!!!!!! PICTURES ARE FOR ILLUSTRATION PURPOSES ONLY.

VIN: 1C4RJFAG6KC775522

Stock #: 191182

Explore Payment Options

Compare and Save Real-Time Bank Offers
Customize Your Monthly Payment
Get Instant Trade-In Estimate

Priced to Move - $7,179 below MSRP.. Take a road, any road. Now add this SUV and watch how that road begins to look like a racetrack! You win!! 4 Whe ...

[ more ]

Explore Payment Options

Compare and Save Real-Time Bank Offers
Customize Your Monthly Payment
Get Instant Trade-In Estimate

Priced to Move - $7,179 below MSRP.. Take a road, any road. Now add this SUV and watch how that road begins to look like a racetrack! You win!! 4 Wheel Drive!!!4X4!!!4WD* This gas-saving 2019 Jeep Grand Cherokee Laredo will get you where you need to go!!! Optional equipment includes: Quick Order Package 2BC Upland..., FREE LOANERS!!!!!! PICTURES ARE FOR ILLUSTRATION PURPOSES ONLY.

VIN: 1C4RJFAG4KC775518

Stock #: 191187

Explore Payment Options

Compare and Save Real-Time Bank Offers
Customize Your Monthly Payment
Get Instant Trade-In Estimate

This big league Vehicle, with its grippy 4WD, will handle anything mother nature decides to throw at you!! Jeep FEVER!!! Need gas? I don't think so. ...

[ more ]

Explore Payment Options

Compare and Save Real-Time Bank Offers
Customize Your Monthly Payment
Get Instant Trade-In Estimate

This big league Vehicle, with its grippy 4WD, will handle anything mother nature decides to throw at you!! Jeep FEVER!!! Need gas? I don't think so. At least not very much! 25 MPG Hwy. Awesome! Priced below MSRP!!! Climb into savings with our special pricing on this outstanding Grand Cherokee. Optional equipment includes: Quick Order Package 2BC Upland..., FREE LOANERS!!!!!! PICTURES ARE FOR ILLUSTRATION PURPOSES ONLY.

VIN: 1C4RJFAG2KC775517

Stock #: 191191

Explore Payment Options

Compare and Save Real-Time Bank Offers
Customize Your Monthly Payment
Get Instant Trade-In Estimate

Take a road, any road. Now add this SUV and watch how that road begins to look like a racetrack!! SAVE AT THE PUMP!!! 25 MPG Hwy*** ATTENTION!!! Pric ...

[ more ]

Explore Payment Options

Compare and Save Real-Time Bank Offers
Customize Your Monthly Payment
Get Instant Trade-In Estimate

Take a road, any road. Now add this SUV and watch how that road begins to look like a racetrack!! SAVE AT THE PUMP!!! 25 MPG Hwy*** ATTENTION!!! Priced to Move - $7,179 below MSRP** 4 Wheel Drive, never get stuck again... Optional equipment includes: Quick Order Package 2BC Upland..., FREE LOANERS!!!!!! PICTURES ARE FOR ILLUSTRATION PURPOSES ONLY.

VIN: 1C4RJFAG4KC775521

Stock #: 191171

Explore Payment Options

Compare and Save Real-Time Bank Offers
Customize Your Monthly Payment
Get Instant Trade-In Estimate

SAVE AT THE PUMP!!! 25 MPG Hwy... Priced to Move - $7,179 below MSRP... Your lucky day! 4 Wheel Drive!!!4X4!!!4WD* Are you seeking a car that you don' ...

[ more ]

Explore Payment Options

Compare and Save Real-Time Bank Offers
Customize Your Monthly Payment
Get Instant Trade-In Estimate

SAVE AT THE PUMP!!! 25 MPG Hwy... Priced to Move - $7,179 below MSRP... Your lucky day! 4 Wheel Drive!!!4X4!!!4WD* Are you seeking a car that you don't have to wonder if it will start in the morning? Well, this 2019 Jeep Grand Cherokee Laredo will have you excited to pick-up even your mother-in-law! Optional equipment includes: Quick Order Package 2BC Upland..., FREE LOANERS!!!!!! PICTURES ARE FOR ILLUSTRATION PURPOSES ONLY.

VIN: 1C4RJFAG9KC637344

Stock #: 190627

Explore Payment Options

Compare and Save Real-Time Bank Offers
Customize Your Monthly Payment
Get Instant Trade-In Estimate

You've been longing for that one-time deal, and I think I've hit the nail on the head with this spacious Vehicle* 4 Wheel Drive. Need gas? I don't th ...

[ more ]

Explore Payment Options

Compare and Save Real-Time Bank Offers
Customize Your Monthly Payment
Get Instant Trade-In Estimate

You've been longing for that one-time deal, and I think I've hit the nail on the head with this spacious Vehicle* 4 Wheel Drive. Need gas? I don't think so. At least not very much! 25 MPG Hwy!!! Priced below MSRP!!! The price is the only thing that's been discounted on this do-anything Vehicle*** Stunning!! Optional equipment includes: Quick Order Package 2BC Upland..., FREE LOANERS!!!!!! PICTURES ARE FOR ILLUSTRATION PURPOSES ONLY.

VIN: 1C4RJFAGXKC646134

Stock #: 190614

Explore Payment Options

Compare and Save Real-Time Bank Offers
Customize Your Monthly Payment
Get Instant Trade-In Estimate

Want to stretch your purchasing power? Well take a look at this spacious SUV!! Priced below MSRP!!! This outstanding 2019 Jeep Grand Cherokee Laredo ...

[ more ]

Explore Payment Options

Compare and Save Real-Time Bank Offers
Customize Your Monthly Payment
Get Instant Trade-In Estimate

Want to stretch your purchasing power? Well take a look at this spacious SUV!! Priced below MSRP!!! This outstanding 2019 Jeep Grand Cherokee Laredo is available at just the right price, for just the right person - YOU... This gas-saving SUV will get you where you need to go!! All Around champ!!! This fun 2019 Jeep Grand Cherokee Laredo, with its grippy 4WD, will handle anything mother nature decides to throw at you. Optional equipment includes: Quick Order Package 2BC Upland..., FREE LOANERS!!!!!! PICTURES ARE FOR ILLUSTRATION PURPOSES ONLY.

VIN: 1C4RJFAG6KC775519

Stock #: 191255

Explore Payment Options

Compare and Save Real-Time Bank Offers
Customize Your Monthly Payment
Get Instant Trade-In Estimate

Priced below MSRP!!! This tip-top SUV is available at just the right price, for just the right person - YOU! All smiles!! 4 Wheel Drive!!!4X4!!!4WD. ...

[ more ]

Explore Payment Options

Compare and Save Real-Time Bank Offers
Customize Your Monthly Payment
Get Instant Trade-In Estimate

Priced below MSRP!!! This tip-top SUV is available at just the right price, for just the right person - YOU! All smiles!! 4 Wheel Drive!!!4X4!!!4WD.. Need gas? I don't think so. At least not very much! 25 MPG Hwy!!! Are you interested in a simply fantastic SUV? Then take a look at this durable SUV!!! New Inventory!!! Optional equipment includes: Quick Order Package 2BC Upland..., FREE LOANERS!!!!!! PICTURES ARE FOR ILLUSTRATION PURPOSES ONLY.

VIN: 1C4RJFAG0KC587496

Stock #: 190465

Explore Payment Options

Compare and Save Real-Time Bank Offers
Customize Your Monthly Payment
Get Instant Trade-In Estimate

Tired of the same dull drive? Well change up things with this functional Laredo! 4 Wheel Drive*** This Grand Cherokee won't last long at $7,601 below ...

[ more ]