New Jeep Compass Lease Deals in Glendale Heights, IL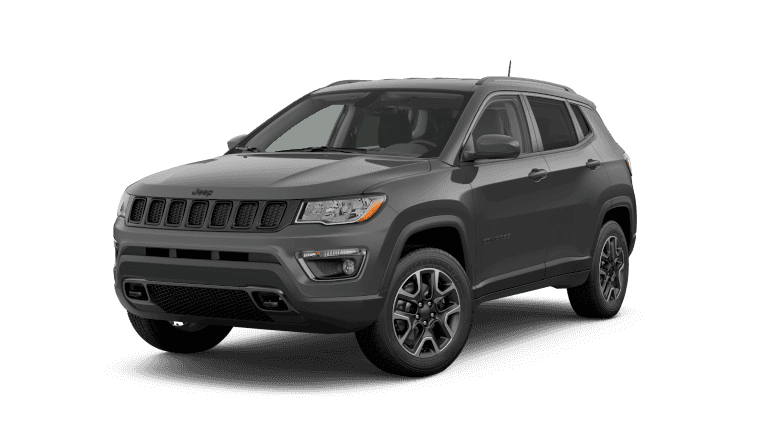 2019 Compass Latitude FWD
LEASE FOR:
$189/mo* for 42 months
$3,499 total due at signing, no security deposit required. Tax, title and license extra. Offer expires on 06-03-2019.
*Low-mileage lease for well qualified lessees. Based on MSRP example of $26,590.00 with 28J package after all applicable offers. Total due at lease signing includes a down payment and first month's payment. Offer requires dealer contribution. Tax, title & license extra. Lessee pays for excess wear and mileage of $.25/mile ($0.50/mile for SRT models) for each mile over 10,000 miles per year, if vehicle is returned at end of term. Option to buy at lease end at pre-negotiated price. Dealer's actual terms may vary. Offer through Chrysler Capital. Residency restrictions apply. Must take retail delivery by 06/03/2019. $395 disposition fee due at lease end.
Tackle any terrain in style when you slide behind the wheel of the all-new Jeep Compass! The finance experts at DuPage Chrysler Dodge Jeep Ram (CDJR) in Glendale Heights, IL, have the latest Jeep Compass models for sale and the special offers you've been waiting for. Our Compass lease specials are designed to help you take this compact SUV home while sticking to your budget. Browse our new inventory to view available models on our lot, then pair your favorite with one of our Jeep Compass lease prices or rebates. To learn more about our new Jeep Compass lease deals, get in touch with a DuPage CDJR representative by calling (630) 984-1559 or fill out our contact form.
30

Matching Vehicles

Found

VIN: 3C4NJCAB3KT743584

Stock #: 191097

Explore Payment Options

Compare and Save Real-Time Bank Offers
Customize Your Monthly Payment
Get Instant Trade-In Estimate

A real head turner!!! This Compass won't last long at $4,968 below MSRP... This is the vehicle for you if you're looking to get great gas mileage on y ...

[ more ]

Explore Payment Options

Compare and Save Real-Time Bank Offers
Customize Your Monthly Payment
Get Instant Trade-In Estimate

A real head turner!!! This Compass won't last long at $4,968 below MSRP... This is the vehicle for you if you're looking to get great gas mileage on your way to work.. Want to stretch your purchasing power? Well take a look at this can-do Sport.. Optional equipment includes: Transmission: 6-Speed Aisin F21-250 Gen 3 Auto..., FREE LOANERS!!!!!! PICTURES ARE FOR ILLUSTRATION PURPOSES ONLY.

VIN: 3C4NJCAB1KT743583

Stock #: 191071

Explore Payment Options

Compare and Save Real-Time Bank Offers
Customize Your Monthly Payment
Get Instant Trade-In Estimate

This gas-saving Compass will get you where you need to go! Are you waiting for a fantastic value in a vehicle? Well, with this tried-and-trued 2019 J ...

[ more ]

Explore Payment Options

Compare and Save Real-Time Bank Offers
Customize Your Monthly Payment
Get Instant Trade-In Estimate

This gas-saving Compass will get you where you need to go! Are you waiting for a fantastic value in a vehicle? Well, with this tried-and-trued 2019 Jeep Compass Sport, you are going to get it! Priced to Move - $4,968 below MSRP** All the right toys!!! Optional equipment includes: Transmission: 6-Speed Aisin F21-250 Gen 3 Auto..., FREE LOANERS!!!!!! PICTURES ARE FOR ILLUSTRATION PURPOSES ONLY.

VIN: 3C4NJCABXKT715569

Stock #: 190937

Explore Payment Options

Compare and Save Real-Time Bank Offers
Customize Your Monthly Payment
Get Instant Trade-In Estimate

Great MPG: 31 MPG Hwy!! Barrels of fun!! There is no better time than now to buy this functional Vehicle, ready to do-it-all for you... Priced below ...

[ more ]

Explore Payment Options

Compare and Save Real-Time Bank Offers
Customize Your Monthly Payment
Get Instant Trade-In Estimate

Great MPG: 31 MPG Hwy!! Barrels of fun!! There is no better time than now to buy this functional Vehicle, ready to do-it-all for you... Priced below MSRP!!! Why pay more for less* Optional equipment includes: Transmission: 6-Speed Aisin F21-250 Gen 3 Auto..., FREE LOANERS!!!!!! PICTURES ARE FOR ILLUSTRATION PURPOSES ONLY.

VIN: 3C4NJCAB8KT715568

Stock #: 190903

Explore Payment Options

Compare and Save Real-Time Bank Offers
Customize Your Monthly Payment
Get Instant Trade-In Estimate

Ready for anything!!! Need gas? I don't think so. At least not very much! 31 MPG Hwy! Momentous offer!!! Priced below MSRP. How comforting is it knowi ...

[ more ]

Explore Payment Options

Compare and Save Real-Time Bank Offers
Customize Your Monthly Payment
Get Instant Trade-In Estimate

Ready for anything!!! Need gas? I don't think so. At least not very much! 31 MPG Hwy! Momentous offer!!! Priced below MSRP. How comforting is it knowing you are always prepared with this durable Compass*** Optional equipment includes: Transmission: 6-Speed Aisin F21-250 Gen 3 Auto..., FREE LOANERS!!!!!! PICTURES ARE FOR ILLUSTRATION PURPOSES ONLY.

VIN: 3C4NJCAB6KT692324

Stock #: 190804

Explore Payment Options

Compare and Save Real-Time Bank Offers
Customize Your Monthly Payment
Get Instant Trade-In Estimate

Are you interested in a simply outstanding car? Then take a look at this brawny SUV. Oh yeah!! Real gas sipper!!! 31 MPG Hwy. Priced below MSRP!!! Th ...

[ more ]

Explore Payment Options

Compare and Save Real-Time Bank Offers
Customize Your Monthly Payment
Get Instant Trade-In Estimate

Are you interested in a simply outstanding car? Then take a look at this brawny SUV. Oh yeah!! Real gas sipper!!! 31 MPG Hwy. Priced below MSRP!!! This commanding Compass is available at just the right price, for just the right person - YOU*** Optional equipment includes: Transmission: 6-Speed Aisin F21-250 Gen 3 Auto..., FREE LOANERS!!!!!! PICTURES ARE FOR ILLUSTRATION PURPOSES ONLY.

VIN: 3C4NJCABXKT613673

Stock #: 190286

Explore Payment Options

Compare and Save Real-Time Bank Offers
Customize Your Monthly Payment
Get Instant Trade-In Estimate

$5,037 below MSRP!! Runs mint!!! Gas miser!!! 31 MPG Hwy!! This terrific-looking Vehicle will have you excited to drive to work, even on Mondays** Op ...

[ more ]

Explore Payment Options

Compare and Save Real-Time Bank Offers
Customize Your Monthly Payment
Get Instant Trade-In Estimate

$5,037 below MSRP!! Runs mint!!! Gas miser!!! 31 MPG Hwy!! This terrific-looking Vehicle will have you excited to drive to work, even on Mondays** Optional equipment includes: Transmission: 6-Speed Aisin F21-250 Gen 3 Auto, Sport Appearance Plus..., FREE LOANERS!!!!!! PICTURES ARE FOR ILLUSTRATION PURPOSES ONLY.

VIN: 3C4NJCBB7KT743585

Stock #: 191145

Explore Payment Options

Compare and Save Real-Time Bank Offers
Customize Your Monthly Payment
Get Instant Trade-In Estimate

Dare to compare!! Get down the road in this smooth SUV, and fall in love with driving all over again! Momentous offer!!! Priced below MSRP... Need ga ...

[ more ]

Explore Payment Options

Compare and Save Real-Time Bank Offers
Customize Your Monthly Payment
Get Instant Trade-In Estimate

Dare to compare!! Get down the road in this smooth SUV, and fall in love with driving all over again! Momentous offer!!! Priced below MSRP... Need gas? I don't think so. At least not very much! 31 MPG Hwy** Optional equipment includes: Quick Order Package 28B Altitude, Tu-Tone Paint Group..., FREE LOANERS!!!!!! PICTURES ARE FOR ILLUSTRATION PURPOSES ONLY.

VIN: 3C4NJCBB5KT715574

Stock #: 190966

Explore Payment Options

Compare and Save Real-Time Bank Offers
Customize Your Monthly Payment
Get Instant Trade-In Estimate

There are SUVs, and then there are SUVs like this ready SUV!!! Hold on to your seats!!! Priced below MSRP!!! Rack up savings on this specially-priced ...

[ more ]

Explore Payment Options

Compare and Save Real-Time Bank Offers
Customize Your Monthly Payment
Get Instant Trade-In Estimate

There are SUVs, and then there are SUVs like this ready SUV!!! Hold on to your seats!!! Priced below MSRP!!! Rack up savings on this specially-priced SUV. Gassss saverrrr!!! 31 MPG Hwy... Safety equipment includes: ABS, Traction control, Curtain airbags, Passenger Airbag, Front fog/driving lights...Other features include: Bluetooth, Power locks, Power windows, Auto, Climate control..., FREE LOANERS!!!!!! PICTURES ARE FOR ILLUSTRATION PURPOSES ONLY.

VIN: 3C4NJCBB0KT715577

Stock #: 190938

Explore Payment Options

Compare and Save Real-Time Bank Offers
Customize Your Monthly Payment
Get Instant Trade-In Estimate

ATTENTION!!! Momentous offer!!! Priced below MSRP.. Great MPG: 31 MPG Hwy.. If you've been searching for just the right Compass, then stop your searc ...

[ more ]

Explore Payment Options

Compare and Save Real-Time Bank Offers
Customize Your Monthly Payment
Get Instant Trade-In Estimate

ATTENTION!!! Momentous offer!!! Priced below MSRP.. Great MPG: 31 MPG Hwy.. If you've been searching for just the right Compass, then stop your search right here. This is a great SUV that is guaranteed to keep on chugging along for years and years. You will not be disappointed when you see this SUV*** Safety equipment includes: ABS, Traction control, Curtain airbags, Passenger Airbag, Front fog/driving lights...Other features include: Bluetooth, Power locks, Power windows, Auto, Climate control..., FREE LOANERS!!!!!! PICTURES ARE FOR ILLUSTRATION PURPOSES ONLY.

VIN: 3C4NJCBB4KT623937

Stock #: 190410

Explore Payment Options

Compare and Save Real-Time Bank Offers
Customize Your Monthly Payment
Get Instant Trade-In Estimate

There are SUVs, and then there are SUVs like this rock-solid 2019 Jeep Compass Latitude... This is the vehicle for you if you're looking to get great ...

[ more ]

Explore Payment Options

Compare and Save Real-Time Bank Offers
Customize Your Monthly Payment
Get Instant Trade-In Estimate

There are SUVs, and then there are SUVs like this rock-solid 2019 Jeep Compass Latitude... This is the vehicle for you if you're looking to get great gas mileage on your way to work! Right car! Right price!! Priced below MSRP!!! What a value. Optional equipment includes: Quick Order Package 28B Altitude..., FREE LOANERS!!!!!! PICTURES ARE FOR ILLUSTRATION PURPOSES ONLY.

VIN: 3C4NJDAB2KT628903

Stock #: 190408