2017 RAM 2500 for Sale Glendale Heights Il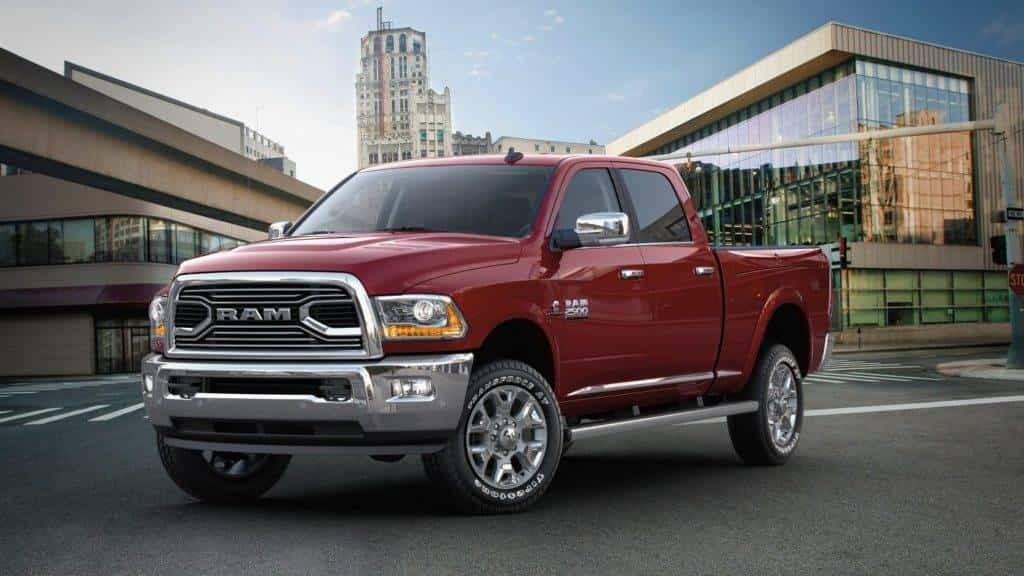 Overview
A full-sized pickup with plenty of utility and tons of power, the 2017 Ram 2500 is a great choice for any driver seeking a great truck. The Ram 2500 is comfortable inside, looks great outside, and has some great available engines. It is among the best available vehicles for towing and hauling, and it also performs well when driving around town. Whether drivers are looking for a versatile work truck or a stylish family vehicle, the Ram 2500 delivers what they need. For those drivers searching for a great 2017 RAM 2500 for Sale in Glendale Heights Il, Dupage RAM just might have the truck they have been looking for. They have some great vehicles available and are often offering excellent Ram 2500 specials, and they are proud to be serving Glendale Heights Il.
Interior
The 2500 has always been a full-sized truck with a high-quality interior, and this year's offering is no different. The Ram truck for sale in 2017 has a refined, upscale cabin that would not be out of place in a luxury SUV. The seats are comfortable and roomy, with excellent stitching and plush material, especially in the higher-end trim models. Quality construction abounds throughout the Ram's interior, and the fit and finish are second-to-none. Metallic accents, soft-touch materials, ample headroom—the interior of the 2017 Ram 2500 has it all. The available Mega Cab option offers the most room, and also features reclining seatbacks in all rows. The two-door regular cab and four-door crew cab also have plenty of room, and all three cab configurations feature solidly closing doors that offer ease entry and exit from the vehicle. A good auto dealership, like Dupage Ram, serving Glendale Heights Il, will have sales associates that can help buyers figure out which cabin option is right for them.
Exterior
The 2017 Ram certainly looks the part of a heavy-duty, full-size pickup. Its large, silver front grille establishes it as a boldly styled, attractive truck, and its silver side-steps and accents complete the look along its profile. It has a high, wide stance that not only looks great but is also functional, allowing good handling and power transfer. The Crew Cab model can be fitted with a regular or long bed, while the Regular Cab and Mega Cab come with the regular bed. 17-inch steel wheels are standard on the Ram 2500, and the SLT and Big Horn models offer 18-inch wheel upgrades. There are often great Ram 2500 specials run at dealerships, so it is a good idea to check and see if any of the Dodge's great upgrade packages might currently be available on a Ram truck for sale.

Mechanical
The 2017 Ram 2500 is full of great engineering from front to back. The Ram truck for sale today, the 2017 2500 features a host of great standard features and many more great options. It starts with the 2500's excellent suspension. The Ram 2500 boasts a tremendous and versatile rear coil suspension. This allows the Ram truck to deliver a more stable and responsive ride even when loaded down with cargo or towing large amounts. No other available truck features this great suspension. Other great features included standard on the Ram 2500 include automatic headlights, a locking tailgate, and power heated mirrors in the Crew Cab version. Higher level trim packages are available, such as the Big Horn, featuring a limited-slip differential, and the Laramie, featuring projector headlights and LED taillights. When looking at the numerous models and options available in a 2017 RAM 2500 for Sale in Glendale Heights Il, a friendly and knowledgeable sales agent, like the ones at Dupage Ram, can be invaluable.
Powertrain
The 2017 Dodge Ram has a number of great engine options available today. The base model engine is a great-sounding and powerful 5.7 liter V8 that puts out a solid 383 horsepower and 400 pound-feet of torque. It comes equipped with a smooth-shifting, capable six-speed automatic transmission, and buyers can choose between models equipped with rear-wheel drive or four-wheel drive. This engine performs quite well, but for drivers looking for more power, more options are available. A 6.4-liter V8 offers tremendous horsepower, rated at 410 horsepower and 429 pound-feet of torque. Also available is a turbocharged V6 diesel engine, which cranks out 350 horsepower and an amazing 660 pound-feet of torque. These great engines are always available, and often can be found at excellent prices at quality dealerships serving Glendale Heights Il.
Safety
The 2017 Dodge Ram 2500 is equipped with great safety features, including strong brakes, front and side airbags, and stability and traction control. It handles well and stops quickly, and stacks up well against its competition in federal safety tests. An available rear facing camera can make backing up any safer.
The 2017 Dodge Ram 2500 is an excellent full-size pickup with a lot to offer. It performs well, looks great, and is surprisingly luxurious inside. It handles well thanks to its excellent suspension, and it offers a range of engine options to fit each potential buyer. The Ram 2500 is among the best full-size trucks on the market today and is a great choice for drivers looking for both a sturdy work truck and a stylish driver. When looking for the best 2017 RAM 2500 for Sale in Glendale Heights Il, check out Dupage Ram, and ask about their RAM 2500 specials.