2017 Jeep Cherokee Sport near Schaumburg IL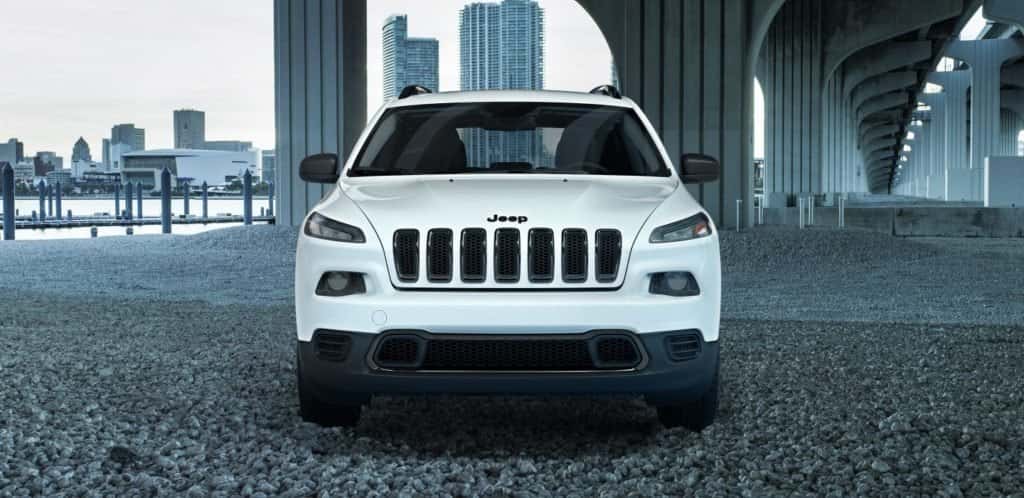 Overview
The 2017 Jeep Cherokee Sport near Schaumburg IL is designed to help you get to new heights with greater comfort and style. When you come down and explore this vehicle for yourself, you'll fall in love with the amazing features and functions of the 2017 Jeep Cherokee Sport. Come down and check out this amazing vehicle at our dealership serving Schaumburg IL residents so that you can get an incredible deal on your next vehicle purchase. When it comes time for you to get the best possible deal, you need to check out our selection of incredible vehicles and find the one that resonates most with you.
Interior
Come down and explore the interior at Dupage Jeep and get to know the included 3.5-inch monitor that is designed to provide you with the information you need most. You'll also get a driver seat back pocket so that you can store maps and other important items for the road. When it comes to staying on top of your stats, the electronic vehicle information center will provide you with the critical data you need. It's also a good idea to come down and check out the amazing audio system so you can experience the stunning realism of this vehicle's speaker system. A full-length floor console and front and rear floor mats are designed to help you enjoy this Jeep more than any previous model. Organizing your Cherokee is a breeze with the cargo management system that is designed to provide you with a place for every thing. For extra security, lock up your belongings in the locking glove box with a damped door. You'll also enjoy the ability to store your sunglasses overhead in the console that is designed to protect your glasses from scratches. The 2017 Jeep Cherokee Sport near Schaumburg IL comes with a premium air filter so you can enjoy the crisp and clean air, and you'll love the power windows with a one-touch down feature to give you even greater control.
Exterior
The 2017 Jeep Cherokee Sport offers some impressive exterior features that are designed to give you a more enjoyable driving experience. The rear window defroster is designed to keep your visibility high and the short mast antenna is removable for additional functionality. You'll also get solar control glass as a standard feature on this vehicle. When you visit our dealership serving Schaumburg IL residents, you'll be able to experience how the underbody aerodynamic treatment can help you get a better driving experience and improved fuel efficiency. The vehicle also comes with power mirrors for simple adjustments. The power locking fuel door makes it easier than ever to pump gas and you'll love the iconic design of this incredible vehicle at Dupage Jeep. Come down and experience this incredible new Jeep and make your selection before the best vehicles are sold to other customers.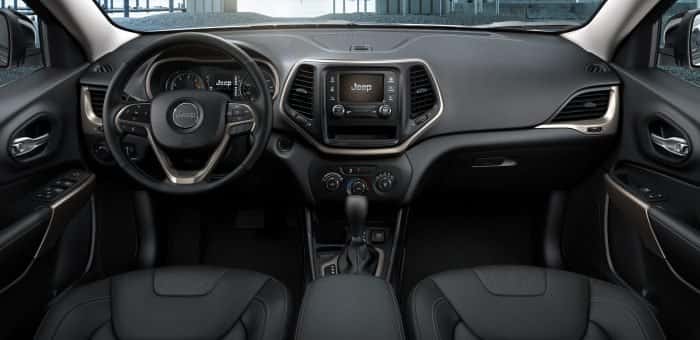 Mechanical
The Cherokee has a dynamic braking system that makes use of four-wheel disc brakes to ensure you come to a secure and final stop. You'll love the ability to use the electric parking brake and the vehicle has some intense 4×4 capabilities that you'll be itching to explore. When you come down and experience the 2017 Jeep Cherokee Sport, you'll be able to discover all the advanced features that make this vehicle so impressive and versatile. Drive more surely with electric power steering and keep your cool with an engine oil cooler that is essential in the hotter summer months. The suspension is a normal duty suspension, but you should be able to enjoy an easy ride in most terrain with the exceptionally well-appointed system. Get to know the aerodynamic features that are designed to help you take your driving experience to the next level and enjoy an outstanding level of power and control.
Powertrain
Experience the power of a 2.4-liter MultiAir four-cylinder engine that is designed to power you through the toughest driving conditions. When you need a more powerful engine, you'll also have the option of getting a 2.4-liter four-cylinder PZEV MultiAir engine or a 3.2-liter V6 powerhouse with electronic start and stop features for greater fuel efficiency. The 2017 Jeep Cherokee Sport near Schaumburg IL can also be equipped with heavy duty engine cooling for better overall performance. The nine-speed transmission that comes standard will have you enjoying your drive with amazing control and finesse.
Safety
Visit our dealership serving Schaumburg IL residents to discover all of the safety features packed into this vehicle. At Dupage Jeep, we are committed to helping you understand how these features can help protect you. Active features are designed to monitor the situation and help you avoid a more serious injury. Passive features work continuously, even if there is no power to the vehicle. Systems like a tire pressure sensor, an accident response system and hill start assist make this vehicle safer to drive. Come down and learn about all of these safety features that are designed to help you walk away from a serious accident.
Call our Jeep dealership to schedule a Cherokee test drive so you can get the best possible driving experience. You'll love how well this vehicle maneuvers, and you'll get a more commanding view of your life when you take this vehicle out for a spin. This off-road vehicle is designed to help you get where you need to go safely and securely so come down and see how we can help you get the vehicle of your dreams.