2017 Dodge Charger serving St Charles Illinois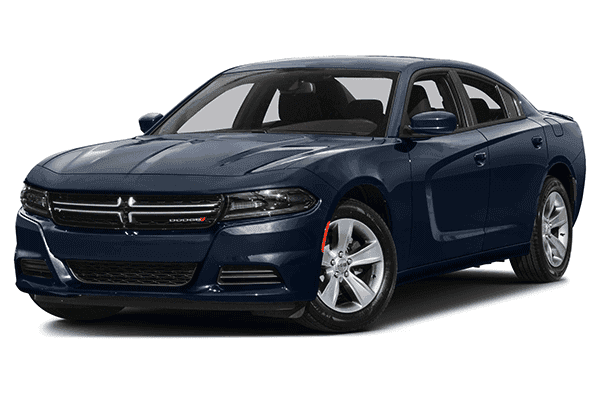 2017 Dodge Charger serving St Charles Illinois
You don't have to pay for a Mercedes-Benz to get top sedan performance. You only have to look as far as the budget-friendly 2017 Dodge Charger. This affordable car offers top engines with the upgraded suspension, transmission, and brakes to match. Dupage Dodge serving St Charles Glendale Heights Arlington Heights St Charles Illinois is your home for a big selection.
Interior
A spacious midsized cabin and large trunk serve the needs of a busy family. Personality-driven interiors offer many ways to personalize the look. If the cloth upholstery choices don't suit you, you can opt for simulated suede or fine leathers. The value package starts you off with modern dash tech, a leather-clad adjustable steering wheel, and a six-way power driver's chair. Higher models add sport seats with special bolstering to hug you on tight curves. A programmable thermostat and climate-controlled front seats take the edge off the weather. An upgraded steering wheel comes with power adjustments and power heat. Audiophiles have a choice of a 19-speaker system by Harman Kardon or a 10-speaker system by BeatsAudio. Standards include front and rear USB ports. The five-inch touchscreen can be traded for an 8.4-inch display. Smartphone integration features are multiplied by the inclusion of Android Auto and Apple CarPlay. Serving St Charles Glendale Heights Arlington Heights St Charles Illinois, Dupage Dodge staff can show you how easy it is to use this excellent dash tech system.
Exterior
This four-door sedan exudes attitude with muscle car styling cues and racetrack taillamps on the 2017 Dodge Charger serving St Charles Illinois. Scalloped sides dress a lean profile. Unique hues are among the 12 colors in its broad palette. You can go bold with TorRed, Redline or Octane Red. Wilder colors include Green Go, Yellow Jacket, and Go Mango. You can keep it simple, yet direct with Contusion Blue or Destroyer Grey. Among the eight models, you'll find different body trims. Packages offer exciting design elements and racy decals. Twelve wheel choices let you further personalize your choice. Blacked out elements trim the Blacktop package edition. You can take that even further with the distinctive black grille and black headlamp bezels of the Daytona edition.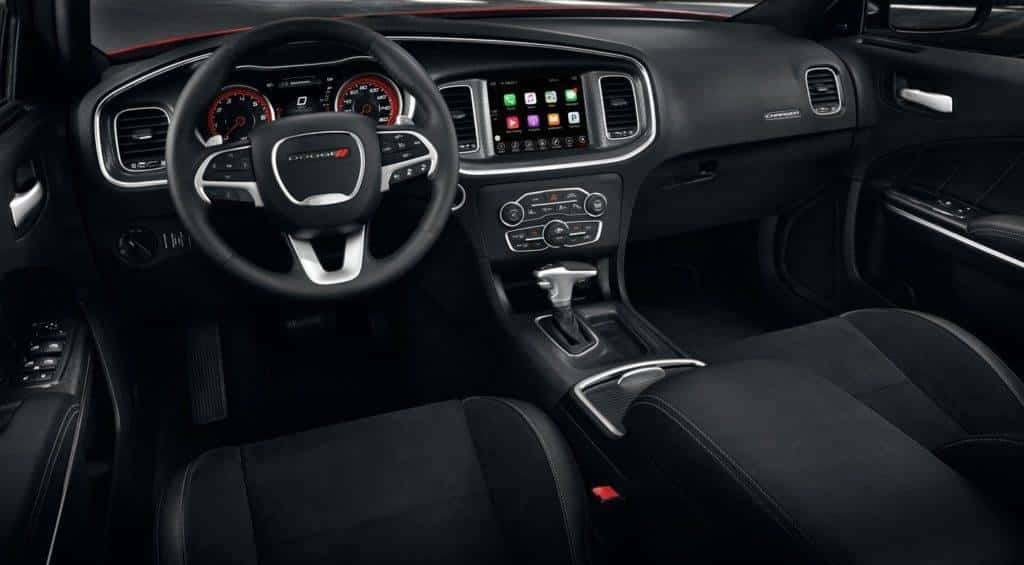 Mechanical
Like any good performance sedan, handling is directed by a rear-wheel drivetrain. Power flowing to the back wheels gives it that extra push for curves and straightaways. Drivers will notice a racier response to their steering commands. Contributing to its ability to control the power outlay, the Dodge Charger utilizes an eight-speed automatic at every trim level. Again, you don't have to pay luxury prices to get a luxury-level response. Just as all-wheel drive is prevalent on many European performance sedans, Chargers offer an all-wheel drive with an active transfer case as an option on its SE and SXT editions. Among affordable sedans, this is a welcome change, and it is one that many Illinois drivers will favor due to our rough winters. SXT editions add a front axle disconnect to the setup to provide racier rear wheel drive when you don't need all-wheel capability. Near the top of the performance chain, the SRT 392 must have Brembo front rotors to handle its speedy nature. You also get a high performance suspension to help with handling. The SRT Hellcat builds on these features, adding performance-tuned steering.
Powertrain
Since performance is serious business for the Dodge Charger, you've got some fun choices ahead if you are shopping. First up, the fuel-efficient, yet speedy V6 cranks out 292 horsepower. The Rally group boosts that to 300 horses by simply returning the system. R/T drivers command a V-8 with 370 horsepower and 395 lb.-ft. of torque. Dodge Charger SRT 392 drivers must control 485 horsepower and 475 lb.-ft. of torque. Moving up to the top rung, the SRT Hellcat edition leads its class with 707 horsepower and 650 lb.-ft. of torque. If you are familiar with the Dodge Challenger, then you've probably realized that these are the same engines. Dodge doesn't think sedan drivers should miss out on any of the fun. You can get behind the wheel of the 2017 Dodge Charger serving St Charles Illinois and see which of these engines is right for you.
Safety
Despite the fact that Dodge has given Charger drivers every reason to live life in the fast lane, the automaker has also made sure that safety is thoroughly covered. The 2017 Dodge Charger proudly took home a five-star safety certification from the National Highway Traffic Safety Administration. Expanding on that, you can now get a long list of crash avoidance features on the 2017 Dodge Charger serving St Charles Illinois. Side intrusions are better avoided with a lane watch and a related automatic lane assist. Additionally, a blind spot monitor can reveal traffic alongside the car's flanks. In stop-and-go traffic, adaptive cruise control can reduce the driver's stress. A frontal collision warning can help speed up the driver's reaction times, and, failing that, automatic braking can mitigate crash circumstances on the 2017 Dodge Charger. External safety aids include heated side mirrors, automatic wipers, and self-regulating high beams.
To get a closer look, take a test drive at Dupage Dodge, serving St Charles Glendale Heights Arlington Heights St Charles Illinois.