Glendale Heights Dealer presents the 2018 Jeep Compass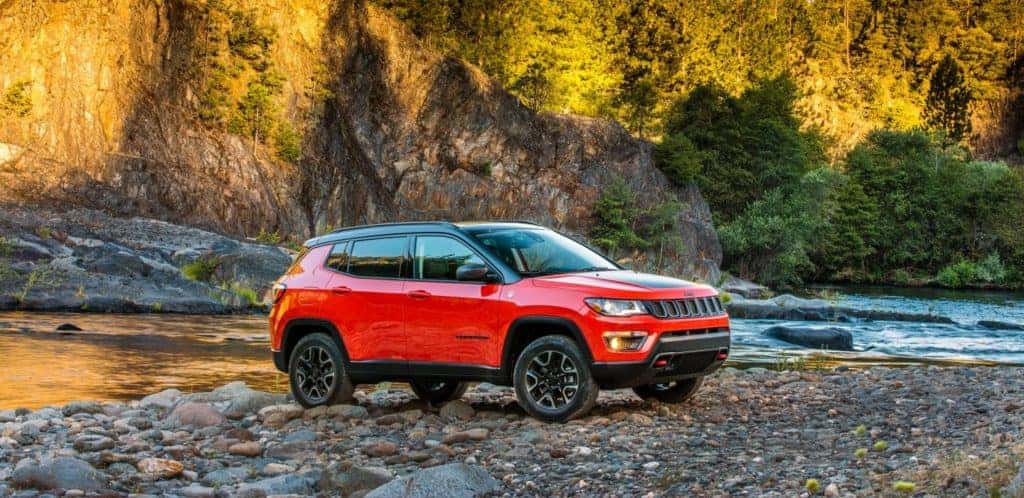 Glendale Heights Dealer presents the 2018 Jeep Compass
Vehicle Overview
With a new vehicle, anything is possible in your life. You can dominate the trails or find the perfect campground when you get behind the wheel of an amazing new car. Come down and see our dealership in Glendale Heights Illinois to find out more about our latest lot of vehicles. At our dealership, we have the Compass in stock and ready for you to take home today. This vehicle is designed to give you a premium driving experience with a structure that screams power and control. You'll get a smooth ride from beginning to end, and you're going to love how well this vehicle handles in all sorts of weather conditions.
Interior
The interior of this Jeep is filled with exhilarating features that are designed to spark your senses and help you relax on your drive. The vehicle comes with a full 7-inch digital cluster display that is designed to help you get a better view of your directions and management of your media and entertainment. The 2018 model will help you get more from your drive around town, and it can also help you enjoy a long family trip with the kids. This vehicle offers a dual-pane sunroof to help you stay cool and collected on your rides. You can choose from several different models, including the Limited, Trailhawk, Latitude and Sport. Each model has its own unique features that are tailored to your driving situation and needs, but you can choose to relax with cattle tan and black leather to get more from your experience. Come down to Dupage Jeep and we'll make you feel right at home.
Exterior
At our dealer, the exterior of this car is something to behold. You'll get an aerodynamic design that allows you to enjoy a quiet and comforting drive. It also helps to increase your overall fuel efficiency so that you can experience a more enjoyable drive. Come down and see the new Compass at your Glendale Heights Dealer, and we will help you get a better look at this exceptional new vehicle. It offers a sloping roofline that helps to give the vehicle a stunning profile that is sure to thrill you. Experience the new 2018 Jeep Compass for yourself and you won't be disappointed. This vehicle offers signature LED lighting and standout rear lighting that helps to give the vehicle a more pronounced look and feel. Come down and explore the headlamp design that gives the vehicle a unique look and feel. You're going to love how good you look in this new vehicle, but you have to come down to our dealership and talk to us.
Mechanical
The 2018 model is designed to help you get even more from your driving experience with mechanical features that are able to help you enjoy an outstanding command over your vehicle. This vehicle offers water fording capabilities that make it the perfect option for taking out on those more treacherous mountain roads. At Dupage Jeep, we'll also show you how well this vehicle works in all sort of weather with a 20:1 crawl ratio that is designed to help you manage most terrain. The vehicle is also highly versatile and maneuverable thanks to the long wheelbase on the precise steering column. You'll be able to make tight turns, which makes this vehicle better than ever for controlling your drive. Come down and see all of our available options and trims in Glendale Heights Illinois and take home a new vehicle today.
Powertrain
At your Glendale Heights Dealer, we have two options for getting you the type of commanding presence that is necessary to get the most control and power from your vehicle. The 4×4 and 4×2 options are both good choices, but if you want the best control in all sorts of terrain, the 4×4 is the better one to choose. The engine on this vehicle is a 2.4-liter Tigershark MultiAir 2 engine that will have you powering through those curving mountain passages. You'll get 180 horsepower and 175 pound-feet of torque to enjoy great power. Combine that with a nine-speed transmission, and the new 2018 Jeep Compass is set to blow your mind about what a vehicle like this is capable of. You'll get great gripping power and the ability to stay in control of any situation when you get one of these new Jeep vehicles.
Safety
At our Glendale Heights Dealer, we know how important the 2018 Jeep Compass and its level of safety actually are. When you buy a Jeep in 2018, you're getting the best safety features around. You'll get features like a reinforced shell that helps protect you from intrusions into the cabin. The vehicle also comes with plenty of active and passive settings to protect you from accidents on the road. When it comes to staying on top of others on the road, the vehicle offers a host of autonomous technologies that alert you when a vehicle is in your blind spot, helps brake in the event of a forward collision and warns of many common kinds of dangers you may encounter on the road.
Come down to Dupage Jeep at our dealer in Glendale Heights Illinois to find out how we can help you take home a new Compass today. These vehicles are widely popular and the models with the best options won't last very long. Give us a call to set up your appointment today.